Stained concrete floors are in demand. You're probably seen them in grocery stores, local coffee shops, retail stores and restaurants. They are also very popular in residential homes for basements and garage floors.
They can be applied to existing concrete whether new or old, interior and exterior. Stains and dyes can be applied to stamped concrete, self-leveling concrete resurfacing systems and polished floors.
Concrete paint is synonymous with epoxy coatings which are typically used on garage floors, Stained concrete floors are more decorative with a natural appearance.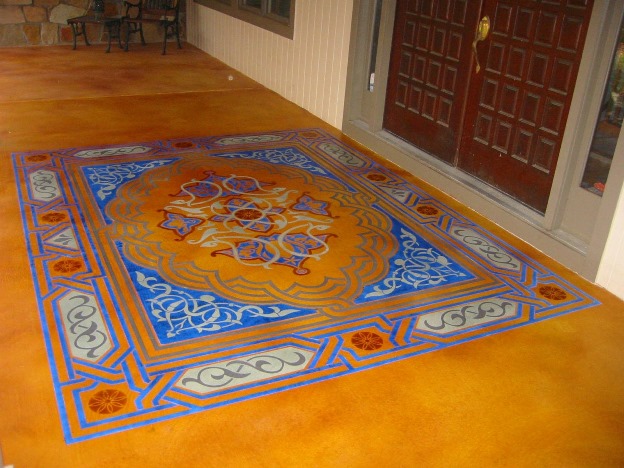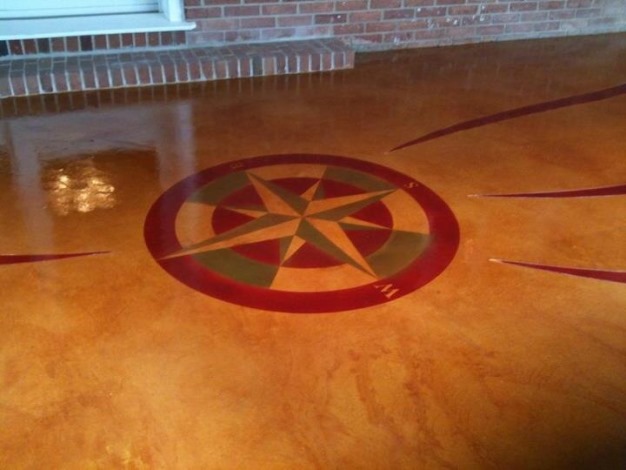 Coloring Decorative Concrete Floors

Acid Stains – Earth tones of light to dark browns, green and light blue.

Concrete Dyes – Water and solvent based. Solvent based dyes produce vibrant colors, water based are softer pastels in every color. Can be used as part of the concrete stain process with numerous colors to create variation. Dyes are available in red, yellow, blue, green and custom colors. Then can be used to add variation to acid stained concrete, borders and custom patterns.

Integral Color – Color hardeners or integral color can be added to new concrete or overlays. Concrete stains and dyes can be applied creating simple to advanced designs.

Decorative Saw Cuts – For advanced decorative concrete, saw cuts in the concrete can create the look of custom tile and borders. Borders and tile patterns can be custom stained
Benefits of Stained Concrete
Beauty – Stained concrete floors have a unique, one of a kind finish. They highlight the concrete adding depth and natural variation
Cost Effective – Cost of decorative concrete stains ranges from $3.00 - $7.00 per square foot. Advanced design and artistry can exceed $15.00 per square foot.
Logos and Custom Graphics – Floors can be customized with your brand name and logo. Great for retail stores, restaurants, offices and showrooms.
Low Maintenance – Regular cleaning and wax coat systems will provide long term life for your floor.
Radiant Heat – Concrete flooring is an excellent surface for use with radiant heat.

Common Problems with Concrete Stains
Acid stains contain metallic salts that react with hydrated lime create colors that become part of the floor. Anything that blocks the salts from penetrating the cement becomes an impediment to coloring taking full affect.
Drywall – Drywall compound and dust can penetrate the pores of the cement surface becoming a blocker.
Paint – Drips from paint cause issues with acid stained floors. Cleaning the paint with solvents can also impede the desired result.
Framing – Nails can chip the surface as well as notes scribbled on the floor. Concrete is the canvas and must be kept clean.
Sealers and Densifiers – Acid stains will not penetrate floors that have been sealed or densified.
Grease and Oil – Oil based products can penetrate deep into the surface preventing ability for stains to react with the lime in concrete. Frequently, the best solution is to use a degreaser and an overlay. Overlays can be thin coatings of 1/16th inch – ½ inch thick
Surface Preparation
Cleaning Contaminants from Concrete – Floor scrubbers can be used to remove oil, paint and drywall compound and dust from the floor.
Diamond Grinding – A concrete grinder which doubles as a polishing machine can be used to remove the top layer of the cement surface. This creates a clean canvas for stains and dyes.
Floor Protection - Plastic and drop clothes should be used during the construction process to protect the floor. A drop cloth is not enough. Wet paint and moisture from drywall compound can soak through and penetrate the pores of the concrete.
Overlays – If the existing surface has issues preventing the ability to create a beautiful floor, overlays can be applied to resurface the floor. There are many available from smooth to texture. They can be sealed with water or solvent based sealers, epoxy and urethanes.

How Long Does The Concrete Staining Process Take?
Whether a small or large floor the process is always the same. It starts with surface prep, floor staining followed by application of concrete sealers.
A typical project might take 3 days, 1 day for each step of the process. Large floors with decorative patterns, applications of overlays, stains and sealers can take 5-10 days. It depending on various factors such as humidity, access, columns, stairs and floor vents.
Sealing Stained Concrete Floors
A typical floor will require 2-3 coats of concrete sealer. Water and solvent based, urethanes and epoxies are most commonly used. The process can be a combination of spray and rolled on sealer.
Sealers can be a matte or glossy finish. They tend to accentuate the beauty of the stained concrete. The result is typically surprising. Many customers get very nervous before sealers are applied. Then once 2-3 coats are applied they can finally see the result.
Many decorative concrete professional recommend high solids of 20-30% wax coats for a final protection. Wax coats can be burnished with a high speed buffer. This step brings out a nice shine while adding durability to the surface.
For high traffic commercial areas such as retail stores, restaurants, showrooms and offices, a scrub and recoat maintenance system will protect the floor for years.
A scrub and recoat wax system is the process of stripping the top wax coat layer, applying 2 new coats then burnishing the floor. This process of removing 1 coat then adding two new ones will increase the protection of the floor for many years.