Stamped concrete and pavers offer sensational options for beautifying your exterior landscapes. Ideal for pool decks, patios, driveways and retaining walls, they complement a variety of designs for both residential and commercial applications.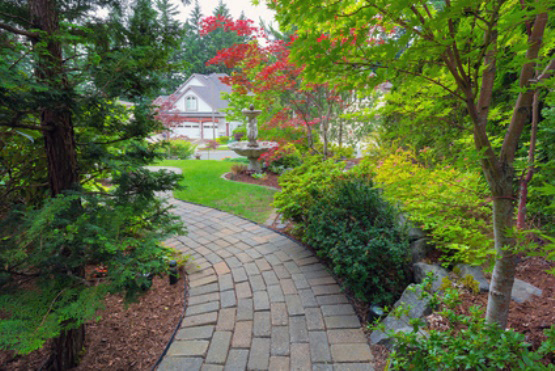 Choosing the Right Stamped Concrete or Paving Stone System for You
Concrete stamping offers an ultra-durable, cost effective exterior concrete flooring option. It brings transformative beauty to pool decks, patios, pathways and driveways. Most people know it only as a flooring option, but there are vertical options also.
In fact, a growing market of concrete artisans hand carve concrete to look like authentic stone. They then use these creations for vertical hardscapes in gardens, retaining walls, bridges and interior spaces for custom wine cellars and more.
Stampable concrete overlays are another option to bring beauty to ugly concrete. Stamped concrete overlays work for both interior and exterior use with applications of approximately ¼ inch thick over existing concrete.
Patterns, colors and design for stamped concrete are available in brick, natural stone, slate, cobblestone and even wood plank. Natural stone textures are also available for creating the natural look of granite.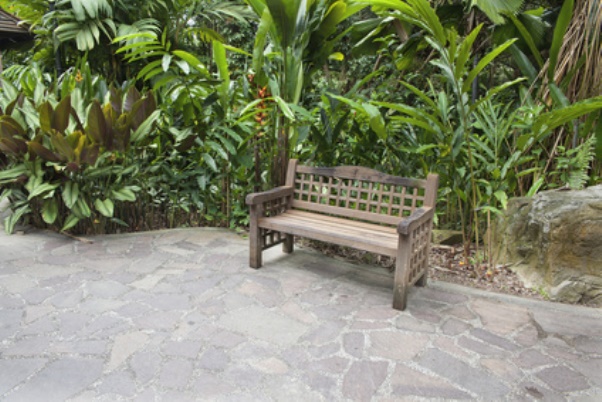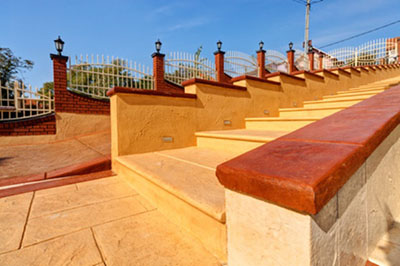 Coloring Options for Concrete Stamping
Integral Color – Integral color mixes in cement offer additional color options for either traditional concrete stamping or a stampable overlay.
Colored Hardener – a powdered colorant broadcast into the wet cement. Contractors apply multiple colors to achieve the natural appearance of stone, slate or brick.
Release Colors – Color powdered releases broadcast onto damp concrete to work with the texture of the concrete stamping mats. They result in a natural two-tone appearance. The powdered release also serves to prevent the rubber stamp patters from sticking to the concrete.
Concrete Sealers – After cleaning off the powered color release, installers apply surface sealers. Seal coats enhance the appearance of the stamped concrete while also providing protection from the elements.
Stamped Concrete Patterns
There are numerous choices for concrete stamping including:
Slate Patterns – Fractured Slate with a rattan weave or random interlocking pattern, Pennsylvania slate and Vermont slate.
Stone Patterns – Canyon stone, English York stone, European fan, ashlar slate
Seamless – Granite, river stone and slate seamless textures
Cobblestone – Patterns include random, running bond, square cobblestone
Brick – Herringbone and running bond available
Wood Floor – Natural wood patterns are available
Stone Paver Patterns – Stone and cobble tile, moonish and octagon tile
Custom Stamps – Accent stamps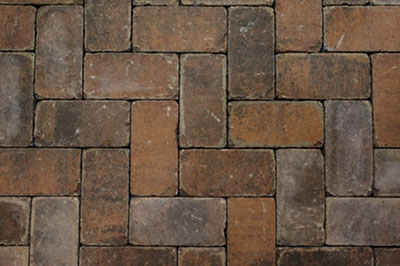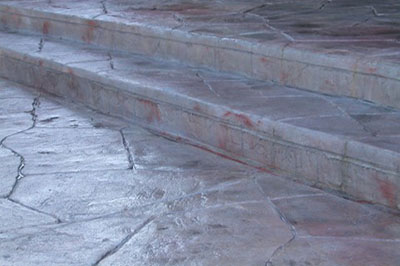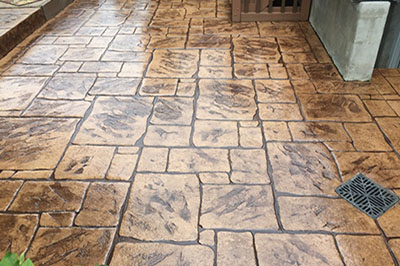 Concrete Stamping Options
Broom Finish – Broom finish is an economical alternative to concrete stamping. This is a flat concrete finish with options to color and seal with a non-slip surface. This is a popular finish for pool decks and walkways. Using a broom, concrete design experts add straight broom lines and even flowing decorative designs. They further enhance the décor with topical concrete stains and dyes.
Spray Finishes – Resurface exterior concrete pool decks, patios and pathways with sprayed texture finishes. One popular finish called knockdown offers cooler, non-slip surfaces making it an ideal economical finish for interior and exterior pool decks. It keeps feet from burning when walking on hot concrete.
Concrete Paving Stones – Pavers are precast, interlocking concrete stones installed by professional masons. Used for flat surfaces like pool decks, patios, walkways and driveways, paving stones also work well for vertical walls, garden enhancements, outdoor kitchens and retaining walls.
Cost of Concrete Stamping and Concrete Pavers
Concrete Stamping Pricing – Costs vary but typically run $10 - $12 per square foot. For advanced designs, pricing ranges between $12 and $18 per square foot.
Concrete Pavers Pricing – Many variable affect price of concrete pavers. Cost of materials, excavation, size and area varies. Most pricing runs $12 to $20 per square foot, equating to $6,000 - $10,000 or more for a 500-square-foot area.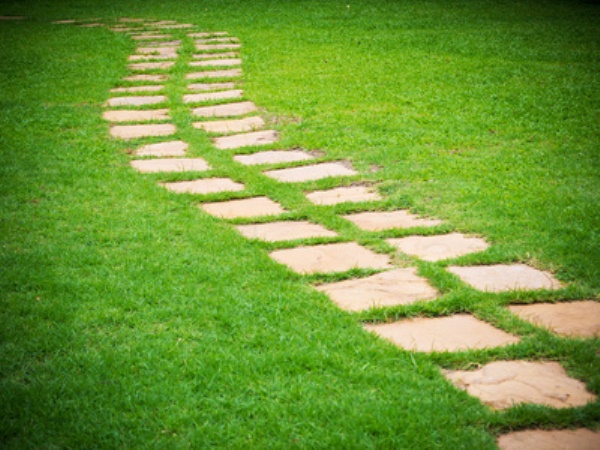 Typical Uses for Stamped Concrete Flooring & Paving Stones
Pool decks, patios, driveways, steps, stairs, gardens and outdoor kitchens are most popular.
Timeframe for Installation of Pavers and Stamped Concrete
How long it takes to install pavers and stamped concrete is a frequent question. Generally, concrete stamping takes 2-3 days once excavation and form setting is complete. Pouring, coloring and stamping concrete usually takes a day. On the second day, the concrete team cleans color release, fixes blemishes and cleans up. By the 3rd day, sealing takes place. For most projects, the entire process takes 5 days from start to finish. Expect longer times for big projects.
Pavers generally take same amount of time to install as concrete stamping.
How Long Will Stamped Concrete and Pavers Last?
Both are long lasting. The answer is decades for both. We recommend a seal coat every few years to maintain stamped concrete's appearance. Pavers generally have minimal maintenance.

Will Stamped Concrete Crack?
Contractors add expansion joints to all concrete slabs to absorb earth movement due to freeze thaw issues and natural movement. Cracks with concrete are possible.
Paving stones are an interlocking floating system not subject to cracking. When cracked, a simple replacement of individual stones is all that's needed.
Concrete stamping process by Brickform a leading manufacturer