The beauty of concrete flooring involves the countless options available to home and business owners.  Designs range from a simple polished gray floor to colored or stained finishes with unlimited artistic potential.
Concrete floor options include earth tone colors or acid stains, which provide shades of greens and browns. Colors can range from light to dark. Acid-stained concrete produces a natural flowing appearance.
Because of the various options for concrete stains and dyes, every floor results in a different look. No two floor are ever the same. If you are looking for a 100% predicable outcome, polished concrete may not be for you. Decorative concrete polishing is not like picking tile, carpet or hardwood that produce a predictable result.
In addition to coloring your floor with acid stains, solvent and water-based dyes are available. Solvent based dyes produce vibrant colors while water based dyes feature soft pastels.
What is Polished Concrete?
Concrete polishing is a process of grinding and honing a concrete floor to create a usable and decorative surface. The result is a matte or glossy finish. The demand for polished concrete is robust and continually expanding. As the demand continues to flourish, new products and techniques continue to evolve.
Concrete contractors achieve polished concrete flooring by grinding numerous layers of the cement surface. They first start with course diamond blades following by finer diamond pads to achieve the desired finish. High-powered, walk-behind machines with attached vacuums create a dustless system.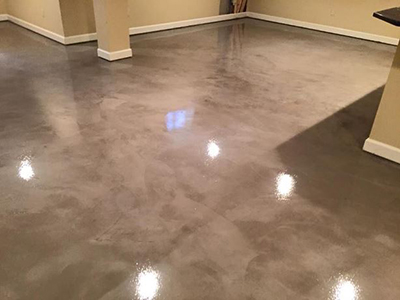 Are All Concrete Floors Polishable?
In theory, all concrete floors stand up to polishing. However, not all cement produces the results you want.
If your concrete has blemishes from paint, oil, carpet glue and mastics, it may not be possible to grind down deep enough to remove the blemishes. This is common with old concrete floors. You also may have cracks or areas requiring a concrete patch. It's a challenge to create a patch that will match the concrete and take the stains and dyes without appearing as a blemish.
You may have other considerations such as transitions to adjacent rooms with varying heights, height issues at steps and stairs, floor vents, columns and doors.
With old concrete, it's not uncommon that the original floor was poured from 2 or more batches that look different when polished and stained.
The solutions include resurfacing with a self-leveling concrete or overlay.
Self-leveling concrete is extremely durable, can be stained and polished with thicknesses of ¼ - ½ inch thickness. Self-leveling produces a smooth surface with height to accommodate transitions to adjacent rooms, floor vents, uneven surfaces, floor outlets, columns and stairs.
Metallic epoxy is another coating that produces the appearance of stained polished concrete. Metallic coatings produce durability similar to that you find with tile or acid staining. Color options range from earth tones of browns and greens to vibrant, marble appearance.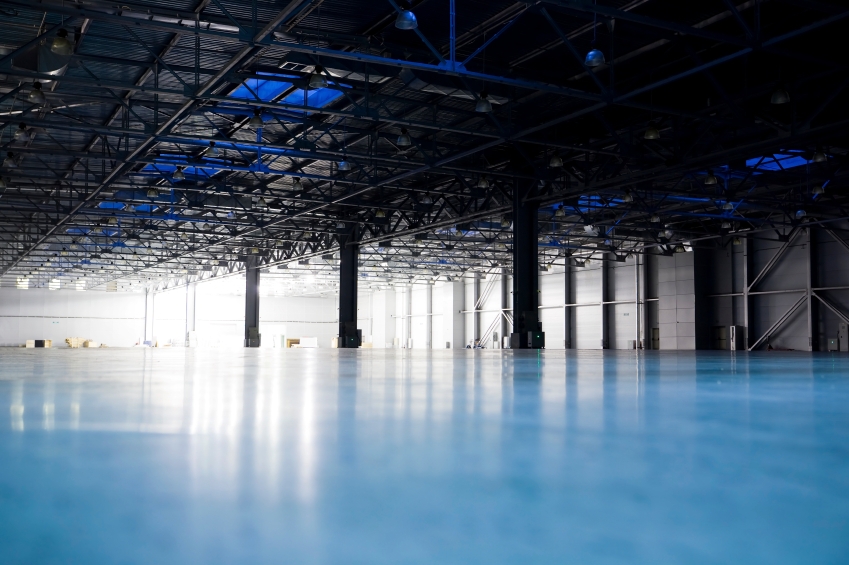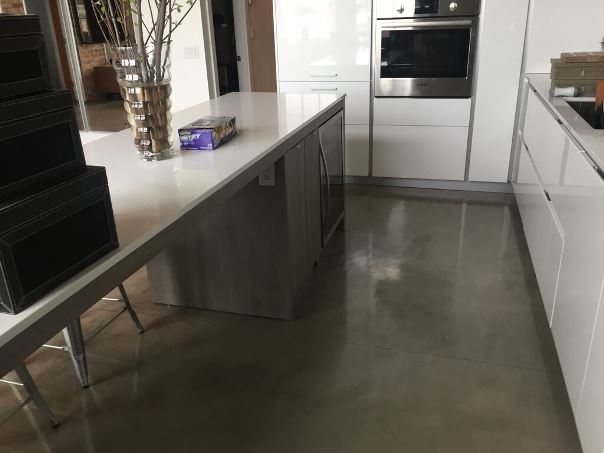 Producing Shine and Your Options
Matte, gloss or high gloss are the options for polished concrete. These finishes are produced different ways.
With traditional concrete polishing of existing floor the process starts with levels of 25-50 grit – 100 grit, which removes the top layer of the cement surface. Honing then begins using a 100 grit, 200 and 400. At the 400 level, concrete experts spray liquid densifier and brush it into the surface. Densifiers create a chemical reaction in the concrete to tighten up the surface pores. This provides increased surface area to polish. The following steps include polishing blades at 400, 800, 1500 and even 3000 grit levels.
The higher levels produce high shine and gloss; whereas, levels at 400-800 produce a matte finish.
Applying Sealers
Polishing professionals use different products and techniques to seal and protect the floor. They apply sealers and burnish with high speed buffers. This process effectively melts the sealers or wax coats enabling them to fill pores in the concrete.
Maintaining Polished Concrete
Floor maintenance requires an occasional new polish or a scrub and recoat with high solids wax coats.
Scrub and recoat is the process of stripping the top layer of a floor wax, then recoating with 2-3 new coats followed by high speed burnishing.
Following a maintenance program of scrub and recoat will continually build layers of high solids wax. Over time, floor protection increases.
Non Slip Polishing
Whether existing polished concrete or self-leveling overlays, floors become non slip. Called COF, coefficient of friction levels meet current regulations. COF can be measured and adjusted depending on local regulations.
Use of Polished Concrete after Completion
After completion, polished concrete floors are ready to use. Due to lack of coatings and working with existing concrete, there is nothing that requires curing and dry time. As a result, floor use starts immediately and may be walked on during the process.
If you choose a grind and seal polished concrete floor, you only need the urethane, epoxy or sealer to dry before use. The dryer the air, the quicker the cure time. The same applies to polished self-leveling concrete with sealers. Allow 1-2 days before use.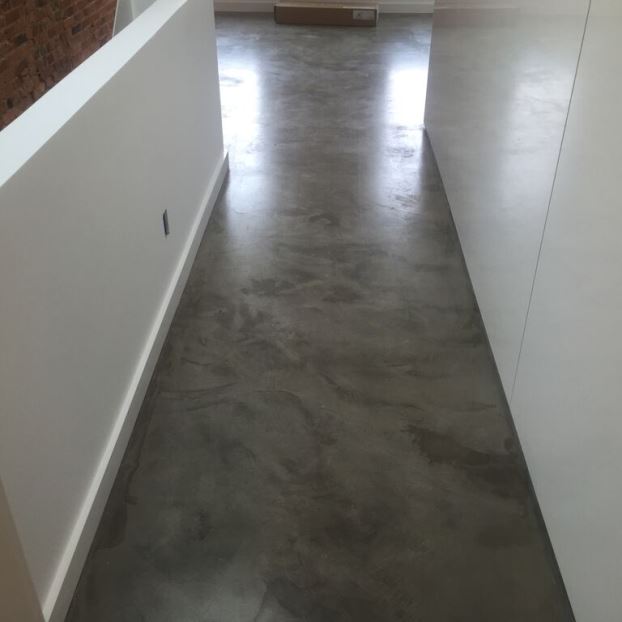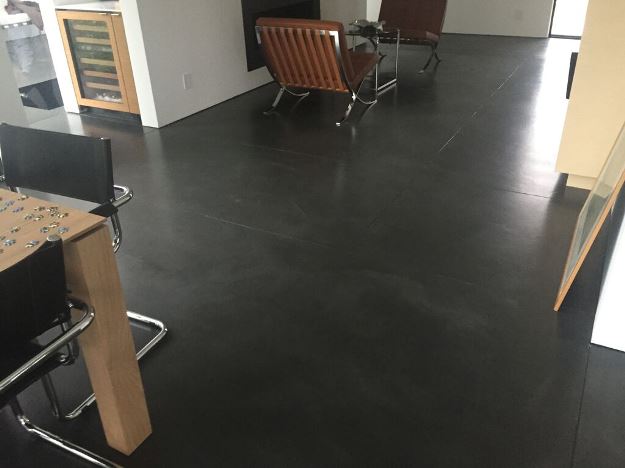 Choosing Polished Concrete vs VCT Tile
VCT Tile is commonly used in big book retail stores and grocery stores. The problem faced with VCT Tile is abrasive foot traffic that wears the protective coat. Once the protection is broken, it becomes extremely difficult to keep clean.
Additionally VCT has seams where dirt and bacteria settle. Seams also break light reflectivity.
Once of the benefits of polished concrete and polishable overlays is being seamless. Seamless floors are less expensive to maintain while also aiding with light reflection.

Best Polished Concrete Uses
Concrete polishing originated in warehouse and manufacturing facilities. Awareness of the process resulted in explosive demand, and now, you'll find polished concrete in garages, basements, retail stores, restaurants, offices, aircraft hangars, art galleries, residential loft conversions and countless other facilities.