According to an article in Construction Specifier, "Epoxy types vary widely, and specifiers need to note such attributes as nozzle time, gel time, load time, sag, cure time, and chemical resistance—each property will affect what makes the product ideal for the intended application.
When searching for the proper epoxy to specify, it is important to note there are three general classes of epoxy—pure epoxy, polyester resins, and epoxy acrylates—that break out in different ways with respect to properties and performance." Epoxy floor coatings as a result have many different prices depending on the type, quality and labor to install. Homewyse, a leading cost estimating website points out a few key items to consider for epoxy estimates as follows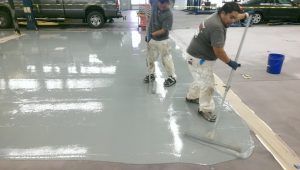 The cost estimate includes:
Costs for local material / equipment delivery to and service provider transportation to and from the job site. Costs to prepare the work-site for Garage Floor Epoxy Painting, including costs to protect existing structure(s), finishes, materials and components. Costs for job cleanup and debris removal at project completion. Labor setup time, mobilization time and minimum hourly charges that are commonly included for small Garage Floor Epoxy Painting jobs.
The cost estimate does NOT include:
Costs for removing, relocating, repairing, or modifying existing framing, surfacing, HVAC, electrical, and plumbing systems – or bringing those systems into compliance with current building codes. Costs for testing and remediation of hazardous materials (asbestos, lead, etc.).
General contractor overhead and markup for organizing and supervising the Garage Floor Epoxy Painting. Add 15% to 23% to the total cost above if a general contractor will supervise this project. Sales tax on materials and supplies. Permit or inspection fees (or portion thereof) required by your local building department for your overall project.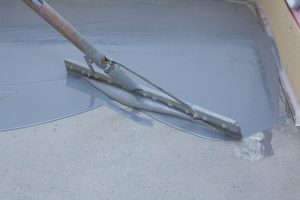 Let's look at the cost of different epoxy floor paints and coatings.
Garage Floor Paint – Basic floor paint for low traffic areas typically is in the ballpark of $50.00 – $80 per gallon with 175 – 250 square feet per gallon. That's a range of 25 – 35 cents per square foot not include surface prep and materials. If you apply 2 coats of concrete floor paint, cost doubles to 50 70 cents per square foot.
Garage Floor Epoxy Kits – A DIY Epoxy Floor Kit with 500 square feet of coverage is estimated to be $100.00 PSF. Though it can be applied fairly easily according to most manufacturers, the reality is it won't hold up well to floor moisture and auto tires.
Professional Garage Floor Epoxy Systems – A high performance epoxy coating system with decorative chips will cost $1.00 – $2.00 PSF for materials. Material for a 500 SF 2 car garage will cost $500 – $1,000. Total cost by a professional installer will cost $5.00 – $10.00 PSF or $2500 – $5,000 for a 2 car, 500 SF garage.
Metallic Epoxy Cost – Metallic Epoxy is installed by trained professionals. Material cost is $2.00 – $3.50 PSF. Add labor and skill of $5.00 – $10.00 PSF and pricing jumps to $7.00 – almost $14.00 per square for
Novolac Epoxy Cost – Novolac epoxy is a high build, chemical resistant epoxy. Novolac epoxy systems are used as a secondary containment system in the event of a chemical spill or leak from a tank. Including surface preparation, expect to spend, $5.00 – $10.00 per square foot or more.
This summarizes epoxy coating costs for well-known systems. Additionally there are epoxy mortar systems. These are hand trawled with sand applied to the wet coating. Final epoxy or urethane finish coatings are applied for non-slip, chemical resistance.
Contact an epoxy flooring contractor to determine the most appropriate system and epoxy cost for material and labor.