If you've decided on garage flooring epoxy to refinish your garage floor, then it's time to consider garage floor coating contractors for the project. Many property owners aren't sure what questions to ask when interviewing potential epoxy flooring companies. And that's totally understandable.
You may not be aware of the best garage floor covering options or even know the specific type, color or design that would work for your garage. You also must trust that the contractor you hire will have the skill and expertise to help you decide on the best floor for your needs.
Hiring an epoxy floor expert isn't too challenging when you have an understanding about what to ask and how to evaluate the contractors you are considering. Here are 5 tips to get you started:
Research Garage Flooring Epoxy Boston
That's right. The very first secret in hiring the right professional is to first study the types of garage flooring epoxy available. Start by finding out the distinctions found among floor epoxies. Questions to consider include:
What type of coatings do you prefer: epoxies, polyurea or polyaspartic?
Do you desire bold colors or more muted tones?
How about decorative concrete additions such as color chips, flakes or even metallic epoxy floors?
There is also the top coat. Manufacturers offer specialized product additions such as non-slip or chemical resistance additives to increase floor performance.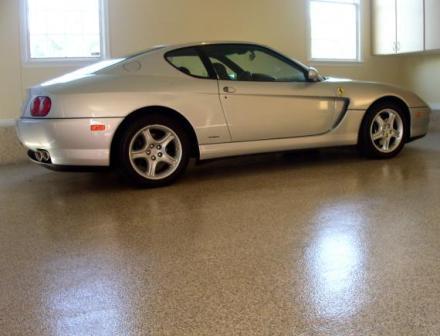 By understanding the various epoxy garage floor paints and coatings, you'll be able to sift through potential contractors based on the actual floor you desire. For example, if you want a polyaspartic flooring finish and a potential candidate doesn't provide that type of flooring, then you've narrowed down the list of contractors appropriate for your project needs.
It's okay if after researching floor covering systems you still aren't sure about the floor you want. The contractor you choose will be able to assist you in selecting the best garage epoxy coating. What is more important is to have a basic understanding of the types of floors available so you may make a more informed choice when it comes time to evaluate your contractor's proposal.
Get License, Insurance & Bond Information
Most local governments on the county and/or state level require specific licensing, bonds and insurance for concrete or epoxy flooring contractors. Request that the potential company you are considering provide a license number. Then look it up on your state's online site to make sure the license is valid, active and without complaints.
Once you've decided on a contractor, it is also vital that they provide a copy of their insurance coverage and bond. This is just as much for you, the property owner's protection, as it is for the contractor and his team.
Liability insurance coverage will cover any damages caused by the company while a bond will safeguard you if the contractor cannot finish the task after payment or does not satisfy a specific monetary responsibility for products or labor that might return to you through a lien.
Review References
Next, examine the contractor's track record. You can start with the state consumer protection agency and/or state contractors licensing board to determine if any actions have been taken against the contractor by dissatisfied customers.
You can likewise review information with the BBB and search online for Google or Yelp reviews to learn more about what others say about the company's services. Remember that online evaluations are not necessarily the most dependable so take everything you find along with the next tip (Request Referrals) together as a whole along with the other information the contractor provides to decide as to whether you want to work with the company or not.
Request Referrals
Any reliable garage floor coating business will have recommendations by past customers for you to review. Ask to see a portfolio of previous work. Garage epoxy specialists take pride in their flooring finish work and usually will have pictures and examples to give you an idea of their work.
Get Everything in Writing
Once you've decided on a contractor, the last step is to get agreements, estimates and service warranties in writing. Do not count on a handshake or verbal promise.
Make certain the agreement specifies exactly the products and kind of garage floor epoxy system to be installed. You may also request a written time schedule of start and work completion dates. This will help if you have a hard deadline for turnaround on the project.
For some projects, the contractor will request a deposit to start. Be sure to have a written payment schedule to follow so everyone is aware of project time frame and milestone payments if necessary.
Evaluate service and product warranties carefully. No matter how great somebody appears, do not put your faith in a contractor who states, "No concerns, if you have any issues simply offer me a call and I'll return and repair it", as their guarantee. All guarantees should be in writing along with the other agreement paperwork.
---
Metrocrete is here to help. We assist home & property owners in determining the right product and garage floor epoxy cost Boston property owners can expect. Give us a call or email us for a free estimate for your project.
Save